Chrysler Wreckers Sydney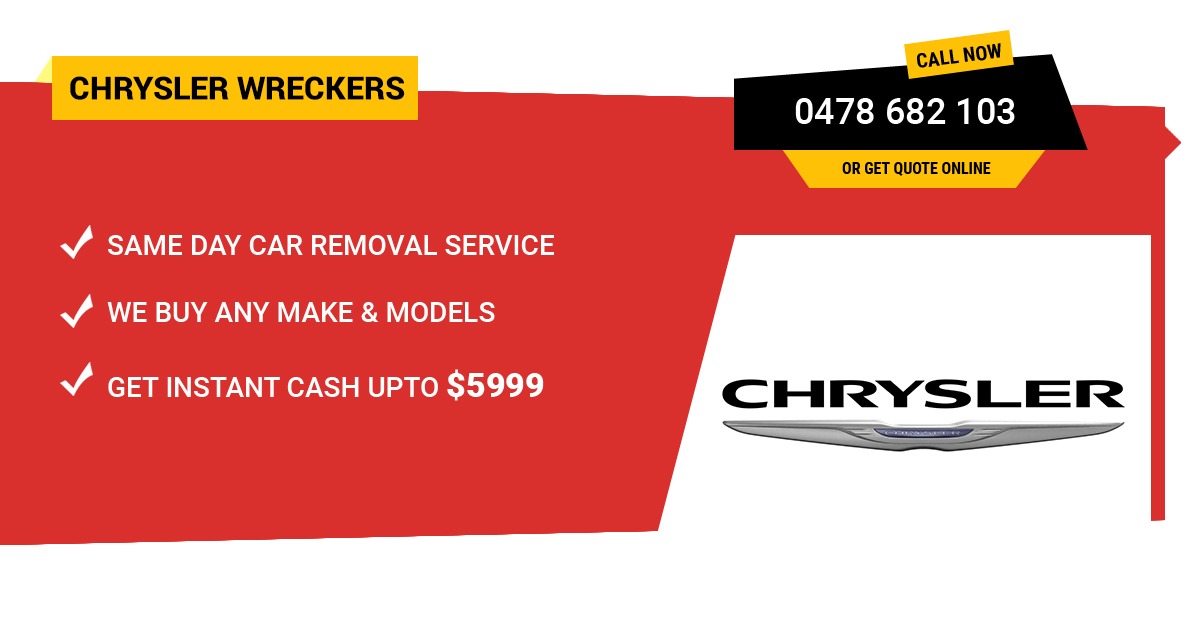 Wreck Monster will purchase your Chrysler for top cash. Whether you are selling a wagon, convertible, van, coupe or sedan, we will jump at the chance to get it to our salvage yard. If you have a Chrysler that has stopped being of any use to you, and you want a fast and simple selling process, don't hesitate and get on the phone to call us! We pay up to $18'999 for Chryslers depending on what condition they are in. Our Chrysler Wreckers Sydney evaluates the worth of all cars using objective standards to make sure that our customers get the most accurate prices.
If you live in Sydney, you don't have to put up with being the owner of an old and useless Chrysler any longer. Call us at 0478 682 103 or spend a few minutes completing an online form that can be located on our website. We will respond quickly!
CHRYSLER WRECKERS OFFER BEST CASH IN Sydney
It is understandable to think that any junk car is not worth a single cent. After all, junk cars can't be driven ever again without spending more money on them for repairs than they are worth. But this simply isn't true. A junk car is worth money in parts. And here at Wreck Monster we care about parts and materials. We dismantle old Chryslers and add any parts that are re-usable to our used parts inventory.
If you want to know how much your Chrysler is worth, contact us for a free quote. Another number to call is 0401 333 393 or you can use the quote request form on our website. Tell us the model, age, condition and mileage of your Chrysler and in no time we will respond with a price quote that you will love!
Same Day Free Removal & Towing Service
We have removal equipment of the highest quality that we use to remove automobiles that are too damaged to drive. But don't think that we will charge you for the cost of removal. Nor will we hide the cost by offering you less money for the vehicle in question. Instead we will foot the bill!
Here at Wreckmonster we are not fussed about whether or not your Chrysler is a particular model. This is because we want as many different cars to come through our salvage yard to ensure that we have as wide a range of parts to sell. Here is just a small sampling of the many models we accept:
Saratoga;
PT Cruiser Convertible;
Sebring Convertible;
Sebring Coupe;
Voyager;
Sebring Sedan;
Daytona;
Imperial;
Imperial Roadster;
Chrysler Six;
Le Baron;
New Yorker;
Chrysler 300 Sport Coupe;
Crossfire;
Crossfire Roadster;
Chrysler 300C;
Aspen;
Chrysler 300M;
Airflow;
Concorde;
Chrysler 200;
Chrysler Grand Voyager;
 Pacifica;
Chrysler Town;
Country;
Chrysler 300C Touring.
Do you want to know how much your Chrysler is worth? Get a free quote to find out! Contact our Chrysler Wreckers Sydney crew and give us some simple details such as your car's model, age and condition and we will respond as fast as possible with your free price quote.