Used car parts Sydney
Meet Wreck Monster – NSW's leading used car parts Sydney based service who sell second hand car parts on affordbale prices and can deliver nationwide without any hassle.  We sell good quality and tested used auto parts at a fraction of the price of new ones. Thus, we make it very easy for our customers to obtain the right components quickly. We have a huge inventory of second hand parts available at affordable prices combined with great quality.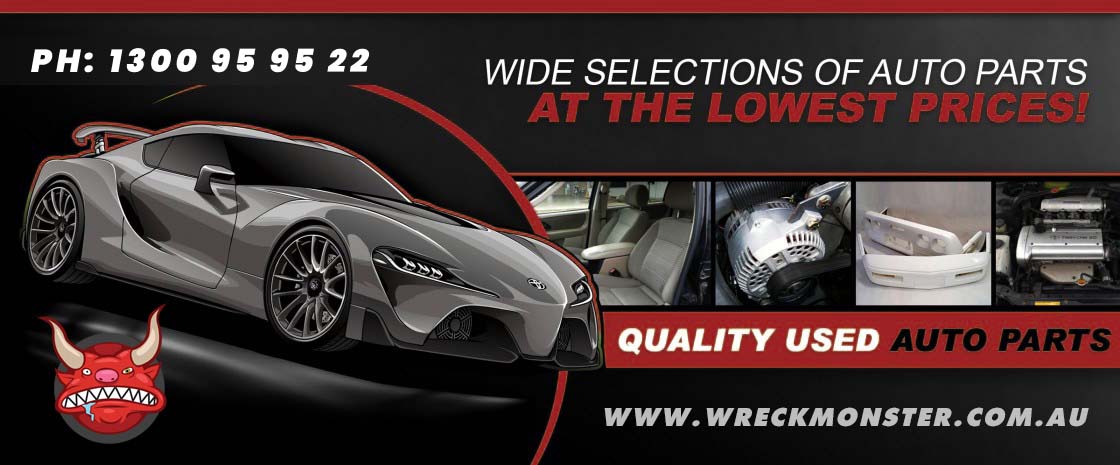 Why "Wreck Monster" for used car parts?
We here at Wreck Monster specialise in selling body parts for a variety of vehicle's makes and models. It ranges from a prize sports car, luxury SUV to high performance truck. Our friendly staff will also assist you to find a particular component or accessories for your automobile.
What you have to do is tell us the specifications of component you want along with your vehicle details. It will include all of its basic information like the make, model and year of manufacture. And, you can leave the rest of the work on our experienced staff. We take great pride in offering reliable second hand components that meet your requirements. At our salvage yard, you will get every type of component. Whether you have a newer domestic vehicle or an older foreign automobile. Thus, we will offer you variety of hard to find components while making sure that you save money.
Second hand parts for all Holden models
Is your current Holden vehicle not working properly? Have you discovered the need for quality replacement components? Don't worry. With us, you can get the best quality spare items for your automobile at low rates.
Cheap Japanese spare parts
Wreck Monster crew is passionate team of Japanese vehicles. We love to wreck and recycle every Japanese make and model that is sold to us. Consequently, we have built up a massive stock of components and accessories for a wide range of Japanese models. This goes for Toyota, Mitsubishi, Lexus, Nissan, Subaru, Mazda, Honda, Isuzu, Suzuki and many more. Moreover, we offer them at cheap rates in comparison to other dealers.
Second hand Korean parts for sale in Sydney
Do you need a replacement part for your Korean vehicle? Feel free to contact us and check our huge inventory at any time. We enjoy a great deal of pleasure to maintain a good inventory of components for used Korean vehicles. Additionally, we provide a limited warranty with all of them. Whether you have a Hyundai. Kia, Ssangyong, Daewoo, Hyundai, etc. We will happily provide you a replacement component of the finest quality.
Second hand American auto parts
We are very dedicated wreckers for all American brands like Ford, Chrysler, Tesla, General Motors, Jeep and much more. Therefore, we provide a massive range of auto spare components like tyres, engines etc. All of which are available at cheap prices. Just contact us today if you need a top-notch second hand component to fix your American wheels. We will be more than pleased to help you straightaway.
Quality European spare parts
Do you own a make or model from one of the most dependable brand known as European? Are you in need of a great working replacement component for it? Do you want to avoid paying huge costs? Fortunately, you can get a good-working component at Wreck Monster at the cheapest prices. We have got the biggest inventory of parts with genuine warranty. They are available for nearly all varieties of European manufacturer like Mercedes Benz, Volkswagen, BMW, Audi and so forth.
You can either pick a part yourself from our salvage yard. Or alternatively, use any of our numbers: 1300 95 95 22 and we will arrange a spare component of your choice. We always strive to offer quick availability of the components.
Order a part online
After you visit us or contact us through our phone number. We will provide you the perfect component for your automobile. Even you don't get an exact replacement item in our inventory, don't panic. As we will quickly arrange one from our incredible nationwide network of scrap yards.
You will also find that we charge impressively reasonable prices. If you desire a quickly delivery at your door, we will happily do it. However, it will include the transportation charges. But, you can trust us to get the best options and lowest costs without haggling.
Also check out —